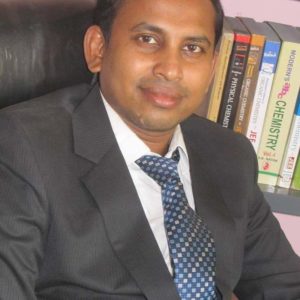 | | |
| --- | --- |
| Name | Dr. Ashis Kumar Sahoo |
| Designation | Lecturer In Chemistry |
| Date of Joining | 08-10-2016 |
| Qualification | M.Sc., Ph.D. |
EDUCATION
Indian Institute of Technology Kanpur, Kanpur, Uttar Pradesh
Doctor of Philosophy in Organic Chemistry in 2014
Title of the thesis : "Synthesis of Benzofused Six and Seven Membered Heterocycles via SN2 Type Ring Opening of Aziridines/ Metal Catalyzed C-N Bond Formation."
Supervisor: Prof. Manas K. Ghorai, Department of Chemistry, IIT Kanpur
Utkal University,Vanivihar, Bhubaneswar, Odisha
M.Sc. in  Chemistry (Specialization in Organic Chemistry), 2008, First Class
Dept. of Chemistry, Utkal University, Bhubaneswar, Odisha
Ravenshaw Autonoumous College, Cuttack, Odisha
Bachelor of Science (Honours) in Chemistry, 2006, First Class
National Eligible Test (NET) CSIR JRF in 2007
TEACHING EXPERIENCES
Undergraduate Teaching Assistant, for B.Tech Second Year students at Department of Chemistry, IIT Kanpur, Performed recitation sessions for approx. 20–60 students,
conducted quizzes, graded exams course-CHM 201N – General chemistry
Lecturer in Chemistry: Royal College of Science and Technology from 14thApril 2014 to 10th April 2015
Lecturer in Chemistry: KIIT Science College, KIIT Bhubaneswar from 13thApril 2015 to 7th October 2016
Lecturer in Chemistry: Rayagada Auto. College, Rayagada 8th October 2016 (Continuing)
GRANTS & FELLOWSHIPS
Senior Research Fellowship (SRF) from Council of Scientific and Industrial Research (CSIR), India in 2010
Junior Research Fellowship (JRF) from Council of Scientific and Industrial Research (CSIR), India in 2008
Qualified National Eligibility Test (NET) under Junior Research Fellowship (JRF) scheme from CSIR, India in Chemical Sciences in 2007
LIST OF PUBLICATIONS
"Synthetic Route to Chiral Tetrahydroquinoxalines via Ring-Opening of Activated Aziridines Ghorai, M. K.; Sahoo, A. K.; Kumar, S.  Org. Lett. 2011, 13 (22), 5972-5975; Impact factor 6.5 (2018),
"Syntheses of Imidazo-, Oxa- and Thiazepine Ring Systems via Ring-Opening of Aziridines/Cu-Catalyzed C-N / C-C Bond Formation" Ghorai, M. K.; Sahoo, A. K.; Bhattacharyya, J. Org. Chem. 2014, 79, 6468−6479;  Impact factor 4.8 (2017)
ABSTRACTS
Ghorai, M. K.; Tiwari, D. P.; Bhattacharyya, A.; Nanaji, Y.; Sahoo, A. K.; Talukdar, R. "Synthesis of Bioactive Chiral N-Heterocycles via Domino Ring-Opening Cyclization (DROC) of Aziridines and Azetidines" p. 25, IL-14 in Abstract Book of "Emerging Trends in Development of Drugs and Devices," University of Delhi, India, 21st – 23rd January, 2013.
CONFERENCES & SYMPOSIA ATTENDED
Orientation course on "Gender in Higher Education" held at UGC-HRDC Utkal University during 12th February-3rd March 2020.
International conference on "Chemical and Biological Science in Drug Discovery-2019" held during 08-10th March 2019 at PG Department of Chemistry Berhampur University.
Refresher course in Chemistry conducted by PG Department of Chemistry Berhampur University under the World Bank Funded Odiha higher education programme for Excellence and Equity (OHEPEE) held from 08-28th January 2019.
National seminar (NAAC sponsored) on "Quality Assurance and Quality Enhancement in Higher Education" held at Rayagada Autunomous College, Rayagada during 12-13th January 2018.
National seminar (UGC sponsored) on Advances in Material Chemistry held at UG Department of Chemistry Mahanga Puspagiri Mahavidyalaya, Erkana cuttack during 29-30th January 2017.
Faculty Development Programme on "Professionalism and Attitude" held at KIIT Science College, Bhubaneswar on 26th July 2015.
"4th International Collaborative and Cooperative Chemistry Symposium" held in IIT Kanpur, UP, India, 25–26th October, 2013.
National Conference on "Emerging Trends in Development of Drugs and Devices' during January 21st-23rd 2013 held at University of Delhi, New Delhi, India.
National Symposium On "Recent Trends In Organometallic Compounds and Their Industrial Applications (OMCA-07)" held at  KIIT university, Bhubaneswar, odisha, 26-28 February, 2007.
PROFESSIONAL COMPETENCES & TECHNICAL PROFICIENCY
Skilled in synthesis, purification, and characterization of complex organic molecules with multiple stereocentres.
Highly conversant with experimental techniques such as thin layer chromatography (TLC), flash column chromatography, chromatotron, crystallization, sublimation, solvent purification systems, and different distillation techniques.
Experienced with moisture and air sensitive organic reactions, handling of metal salts, unstable compounds, bases for routine synthetic transformations using Schlenk line technique.
Knowledge of handling with standard analytical instruments such as digital polarimeter, chiral high performance liquid chromatography (HPLC), and hydrogenation (H-cube).
Highly proficient in analysis and interpretation of spectroscopic data including NMR, Mass (ESI), IR, UV-VIS and elemental analysis (C, H, N).
Supervised and maintained instruments in the advanced organic chemistry laboratory.
Developed new projects and supervised undergraduate students.
Ability to write and edit scientific reports, project proposals, abstracts and manuscripts for publication in peer-reviewed journals and books, review of scientific articles and to make scientific presentations.
Ability to solve the single crystal X-ray analysis data by using highly advances WinGX software and Bruker AXS programs. Also ability to present the corresponding solved structure by using diamond and ortep software.
Highly proficient in using latest standard scientific computer softwares like ChemDraw Ultra (v. 13.0), Chem 3D (v. 13.0), ISIS Draw, Origin 8.5 Pro, JEOL Delta, ACD/NMR Processor, EndNote X7, Crystal Impact Diamond and others like Microsoft Office 2013 (Word, Excel, Powerpoint, Outlook etc.), Adobe Photoshop CS 5, Adobe Illustrator CS 5, Adobe Acrobat Pro XI, etc. and scientific databases such as SciFinder, Scopus, ISI Web of Knowledge, Google Scholar etc. Acquainted with basic programming languages like Q-BASIC, C, FORTRAN-77, and Visul Basic (VB).