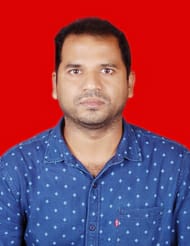 | | |
| --- | --- |
| Name | M. Srinibash Achary |
| Designation | Lecturer & HOD |
| Date of Joining | 19-10-2016 |
| Department | English |
Mobile: 6370306755
Email: srinibash1feb@gmail.com
Education
| | | |
| --- | --- | --- |
| 2010 | UG | MKU, Madurai, Tamil Nadu |
| 2013 | PG | IGNOU, New Delhi |
| 2015 | B.Ed | IGNOU, New Delhi |
Awards / Honors / Fellowships received
Qualified UGC-NET June, 2019.
Qualified UGC- SET(Karnataka) December, 2017
Publication
Achary, Srinibash. M. "A Flower named Mankind", Book: Complexion Based Discriminations. Notion press, New Delhi, 2018.ISBN number- 978-1-64324-231-6.
Refresher / Orientation Courses Attended
Orientation Programme – From 24/02/2020 to 16/03/2020 at UGC HRDC, Jawaharlal Nehru University, New Delhi.
Refresher Course– From 17/08/2021 to 01/09/2021 at UGC HRDC, Kumaun University, Nainital(Uttarakhand)
Meetings/Seminars/Workshop/Conference attended
Participated in two days Seminar on Quality Assurance and Quality Enhancement in Higher Education organized by Rayagada (A) college, Rayagada, Odisha on January 2018
Participated in two days national seminar on Politics and Marginalized groups in Odisha organized by Rayagada (A) college, Rayagada, Odisha on June 2019.
Participated in a Four days Faculty Development Program for "Global Business Foundation Skills" a CSR initiative, from 21st January to 24thJanuary, 2019 conducted by Infosys BPM Ltd at Bhubaneswar.
Participated in One Week National FDP on "Processing The Two Wardrobes: Communication and Writing", from conducted by BVRIT HYDERABAD College of Engineering for Women, Hyderabad, Telengana from 25/05/2020 to 31/05/2020.
Participated in a Three day online workshop on Outcome Based Education & Online Course Design, Development and Delivery organized by University of Hyderabad from 16/05/2020 to 18/05/2020.
Participated in an One National Webinar on 30/05/2020 on the topic Significance of Historiographic fictions in Difficult times, conducted by Nirmala College, Muvattupuza, TN.
Extra-Curricular Activities
Counsellor, YRC (Youth Red Cross)
Editor of College Calendar
Editor of College Magazine
I/C of Cultural Association