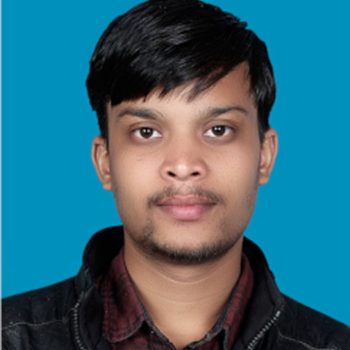 | | |
| --- | --- |
| Name | Sumanta Kumar Sahu |
| Designation | Lecturer in Physics |
| Date of Joining | 27-12-2019 |
| Qualification  | MSc |
Contact: physics.suma@gmail.com
Click here to download the CV. 
Subject of Interest
Condensed Matter Physics, Non-linear Dynamics, Solar Cells
Teaching website: https://sites.google.com/view/rac-physics
Courses Teaching/Taught
UG level Solid State Physics, Analog Systems and Applications, Electricity and Magnetism
PG level Condensed Matter and Materials Physics, Basic Solid State Physics, Quantum Mechanics
Education
2016 – 2018 Jawaharlal Nehru University, New Delhi, India
Master of Science in Physics, specializing in Experimental Condensed Matter Physics
Thesis: Magneto-transport properties of Weyl semimetal Tungsten Ditelluride W T e2
Supervisor: Prof. Satyabrata Patnaik
FGPA: 7.18/9.00, equivalent to 76.8%
2013 – 2016  Govt. College Autonomous, now Kalahandi University, Bhawanipatna, Odisha
Bachelor of Science (with Honours), Physics with Mathematics
Percentage: 82.4%, Distinction
National Level Examinations
Jun 2017 Joint CSIR-UGC Exam, NET with JRF, Rank: 210
Dec 2017 Joint CSIR-UGC Exam, NET, Rank: 128
2018 GATE Physics Exam, Score: 524, Rank: 615
2019 GATE Physics Exam, Score: 490, Rank: 746
Other Academic Certifications
PH526X: Using Python for Research: successfully completed the course offered by HarvardX, an online learning initiative of Harvard University
Advanced Course on Special theory of Relativity, a 3-months online course offered by Centre for Continuing Education, IIT Kanpur with performance marked outstanding
Two semester course-work at IIT Madras during Pre-PhD
Courses: Solar Cells, Physics and Technology of Thin Films, Characterization of Materials and Physical Measurements, FEP, FTP
CGPA: 8.59
Research Experience
May-July 2017: Summer Research Fellowship Program, IIT Ropar, Punjab
Project title: Higher order stop gaps in self-assembled Photonic Crystals
Supervisor: Dr. Rajesh V. Nair
Sponsored by IASc Bengaluru, INSA New Delhi and NASI Allahabad
2018 Master's project work in Experimental Condensed Matter Physics
Project title: Magneto-transport properties of Weyl semimetal Tungsten Ditelluride
W T e2
Supervisor: Prof. Satyabrata Patnaik, JNU
Coding Works
Shockley-Queisser detailed balance limit of efficiency for p-n junction Solar Cells
Reproduced the results from Shockley, W. & Queisser, H. J. Detailed balance limit of efficiency of p-n junction solar cells. J. Appl. Phys. 32, 510–519 (1961)
Monte Carlo simulation and single Histogram Method
Monte Carlo simulation was performed to compute various thermodynamic quantities like magnetization, average energy and specific heat for 8 × 8 spin lattice as a function of temperature.
Employing single Histogram method and taking a single Monte Carlo observable data, the observable was extrapolated over significant temperature range.
Agreement between the two methods was observed.
Chaotic systems and Lyapunov exponents
Numerically calculated the lyapunov exponents for Lorenz system and Rossler system using python codes.
Technical Skills
Languages Python, FORTRAN (basic knowledge), LATEX
OS Linux (Ubuntu), Windows
Softwares Libre Office, MS Office, Origin, Jupyter Lab and Others
Typing English typing 50+ words per minute (W.P.M.)
Language Proficiency
English Professional working proficiency
Hindi Bilingual proficiency
Odia Native proficiency
Webinar Organised
Webinar entitled Mysteries in Quantum World
08th Jan 2021, https://bit.ly/2Lr1Xan
Role: Coordinator, Technical Person
An international webinar on Nuclear Energy: Prospects and Challenges jointly
with the Department of Chemistry, Rayagada Autonomous College.
24th Oct 2020, https://bit.ly/2N0EPjL
Role: Organising Secretary , Technical Person
Workshop/FDP/Webinar Participation
One week faculty development program (FDP) on "Open Source Learning Management System: Modular Object Oriented Dynamic Leaning Environment (MOODLE)" organized by Department of Electronics Engineering, Aligarh Muslim University, Aligarh in association with Spoken Tutorial Project, IIT Bombay
Two-days online workshop on "Online Assessment and Evaluation" organized by Jawaharlal Nehru University, New Delhi
Two-days online Professional Development Program for University and College teachers on "E-Content Development for MOOC and Online Teaching" organized by UGC-HRDC, Jamia Millia Islamia, New Delhi
Two-days workshop on "Empowering Teaching through Online Mode" organized by Jawaharlal Nehru University, New Delhi
Two-days webinar on "Material Science, Technology & Society" organized by School of Physical Sciences, Jawaharlal Nehru University, New Delhi
Two-days workshop on "Perovskite Solar Cells" organized by National Centre for Photovoltaic Research and Education (NCPRE), IIT Bombay
One-day ISMANAM-2019 Pre-Conference Workshop on Advances in NanoScale Materials Characterization by National Facility for Atom Probe Tomography (NFAPT), IIT Madras
Two-days workshop on "Atomic Force Microscopy (AFM)" organized by Park Systems at IIT Madras
Webinar on Wonders of Physics conducted by Anandpur Degree College, Odisha.
Additional Information
Ranked 1 in JNU all India Entrance Examination (JNUEE), 2016 in Physics
Hands on experience in operating X-Ray Diffractometer (Rigaku SmartLab)